Skip to content
If you can dream it, we can help you build it. Discover what's possible at OriginLabs.
Happy Valley's newest prototyping and fabrication space open to all
OriginLabs encompasses roughly 7,000 square feet across three floors and allows users to design, prototype and test potential solutions for their startups or ideas. The well-appointed facilities give users access to a breadth of materials and methodologies for production, with dedicated lab spaces including benchworking, woodworking, metalworking, surfacing, welding, digital fabrication, and additive manufacturing.
Ready to bring your idea to life? Let's get started!

Equipment Training
Take the first step in gaining hands-on experience with lab equipment. These one-hour trainings will educate users on machinery capabilities and provide clearance for use during monitored lab hours.

Skill-Building Workshops
These short format, introductory level courses on various design and fabrication concepts and techniques give you the opportunity to get hands-on experience with a project-based approach to learning. No prior experience required.

1-on-1 Consultations
Whether you are looking for advice on your product or idea, aren't sure where to start, or just want to learn more about the resources available at OriginLabs, our team of trained and certified staff are here to help.
Makerspace (Hands-on)
EQUIPMENT
Build with world-class, cutting-edge machinery
Everything you need to bring your idea to life.
3D PRINTING
Get it printed
The Additive Manufacturing Lab offers multiple 3D printing technologies - with various materials, at multiple scales.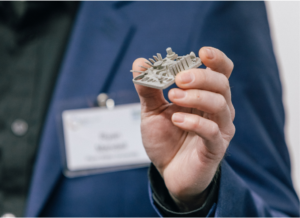 Getting your project printed is simple.
Sign up for a no-cost Service Bureau membership, upload your files, and our team will handle all the prep work and creation and let you know when your product is ready for pick-up.
TOURS
Take a tour
Come see it for yourself!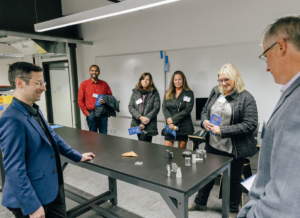 Public building tours are available on Thursdays from noon – 1 PM.
If you have specific questions or are interested in learning more about how we can help you with your project needs, private tours can also be scheduled with our team.
ORIGINLABS STORE - COMING SOON
Interested In purchasing materials?
New store opening soon on the 2nd floor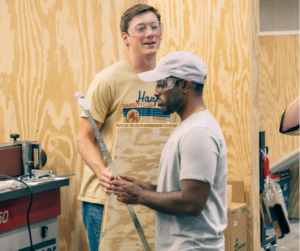 The OriginLabs store will offer a variety of consumables for purchase as well as leasable, month-to-month storage lockers.
More details coming soon!
"OriginLabs provides access to world-class prototyping facilities to students and faculty from across campus, as well as members of the public from State College and beyond. Our facilities enhance the suite of resources available to innovators and entrepreneurs in the region in the form of sophisticated equipment, free workshops, and expert advice and technical guidance."
- Ryan Mandell, Director of OriginLabs
Have questions and want to chat with our team?
$1M+
Equipment Investment