Skip to content
World-class, cutting-edge machinery at your fingertips
OriginLabs houses all of the latest tools and equipment needed for woodworking, metalworking, welding, surfacing/finishing, electronics prototyping, CNC, additive manufacturing, and digital fabrication from world-class manufacturers. Explore our extensive collection of equipment and download the corresponding standard operating procedures (SOP) to ensure safe and efficient operation.
For a full list of upcoming equipment training, check out our Training page.
Benchworking Lab
The Benchworking Lab provides flexible space for project assembly and finishing. Here you will find mobile workbenches, hand tools, and cordless Makita power tools. This space is also used periodically as a classroom environment for workshops and skill-building demonstrations.
Woodworking Lab
The Woodworking Lab is a world-class facility for the processing of lumber, sheet goods, plastics, and foam and consists of a CNC router and suite of stationary equipment.
Surfacing Lab
The Surfacing Lab is a walk-in fume extraction room for applying finishes and working with surfacing compounds such as bondo or fiberglass.
HVLP stands for "high volume, low pressure", which means that this sprayer delivers a large amount of paint using very little air, which is generated by the onboard turbine. Functionally, this means that paint application is easy to control and overspray is minimized. Various types of paint can be run through this system but must be thinned to the proper viscosity. This includes automotive paints, alcohol-thinned lacquers, and even cheap latex house paint thinned with water.
Welding Lab
The Welding Lab is a well-ventilated room outfitted with top-of-the-line equipment generously furnished by Lincoln Electric.
Metalworking Lab
The Metalworking Lab emphasizes sheet metal fabrication and provides access to a broad range of forming and cutting equipment.
Rapid Prototyping and Design Lab
The Rapid Prototyping and Design Lab houses multiple digital fabrication tools including laser engravers and CNC equipment, electronics prototyping and soldering workbenches, and a flexible workspace periodically used for workshops and skill-building demonstrations.
Additive Manufacturing Lab
The Additive Manufacturing Lab hosts multiple 3D printing technologies for the creation of complex geometries in a broad palette of materials.
The Cave
The Cave is a flexible learning environment and small-scale computer lab and host to workshops on CAD/CAM software, automation, and digital fabrication workflows.
Collaborative robots have several distinct advantages over industrial robots, especially in educational settings and small to medium sized manufacturing environments. They do not require knowledge of a complex programming language, are highly mobile, and do not require any safety interlocks such as laser/light curtains or enclosures. Like their industrial counterparts, these arms can be fitted with various end-affectors such as grippers, welders, sanders, and more. The Universal Robots UR10e units have a payload capacity of 10kg (22 lbs.) and a reach radius of about 51".
ORIGINLABS STORE - COMING SOON
Interested in purchasing materials?
Our store on the 2nd floor will be opening soon!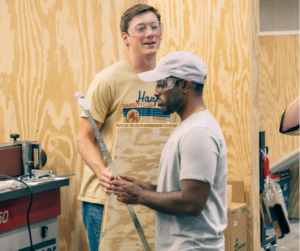 The OriginLabs store on the 2nd floor offers a variety of consumables for purchase as well as leasable, month-to-month storage lockers.
Have questions? We're here to help.