Skip to content
It All Starts Here
Your safety is our highest priority. This is why everyone utilizing the tools and equipment available in our labs is required to receive appropriate training and certifications. In these no-cost, one-hour training sessions, our team of experienced staff will teach and deliver hands-on-demonstrations covering everything from equipment basics (how do I turn it on?) to project capabilities (what all can I do with it?).
Once you have successfully complete a training, you will receive your certification and are free to use the tools you've gained clearance for during open lab hours. Don't forget, open lab access requires an active Makerspace membership.
Sandblaster
Sanders and Grinders
Drill Press
Laser Engraver
Makita Hand Tools
SawStop
Makita Miter Saw
Felder Band Saw
Felder Joiner/Planer
Felder Sliding Table Saw
Hydraulic Shear
Box and Pan Brake
Jet Horizontal Bandsaw
Jet Slip Roll
Lincoln Electric MIG Welder
All trainings are 1 hour in duration, cover introduction to safety considerations and standard operating procedures, and lead to certification for independent usage.
EQUIPMENT
Check Out Our Toolbox
Everything you need to bring your idea to life.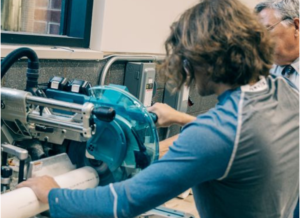 Whether you are looking for specific tools/equipment or just curious about what's available, our Toolbox houses all of the tools and equipment available for woodworking, metalworking, welding, surfacing/finishing, electronics prototyping, CNC, additive manufacturing, and digital fabrication — all from world-class manufacturers.
Don't see a training listed for the tool you are interested in? Check back for updated lists or contact our team.
Have questions? We're here to help.