Skip to content
We're Here for You
Not sure where to start? Looking for a bit of input before moving into production? We understand that knowing where or how to get your project started can sometimes be harder than coming up with the idea itself.
Don't stress, our team is excited to chat with you about your project and how our resources can help you successfully accomplish your goals. All consultations are scheduled for one hour and completely free.
WHAT TO EXPECT
Know Before You Go
Pro tips for preparing for your consultation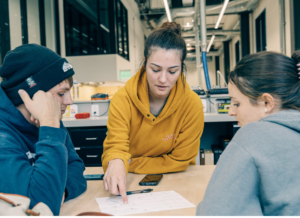 Q: What do I bring with me?
A: Our answer is easy – just bring yourself. If you have plans or specifications you want to talk through, please feel free to bring them but it is not necessary to have anything more than an idea or project goal prepared for this meeting.
Q: What will be covered in the meeting?
A: That depends on where you are with your project and what your goals are. Standard flow typically includes telling us as much as you know about your project, your end goal, where you are in the process and allowing us to ask questions and make recommendations on next steps for you to consider.
Have questions? We're here to help.