Skip to content
Let Us Build It For You
Have an idea for a product but don't want or have the ability to do it yourself? Hire the OriginLabs Service Bureau for your next project.
The Service Bureau offers a suite of 3D printing, fabrication, design and instrumentation  services, billed by the gram or minute, depending on equipment utilized. Using the lastest technology and world-class machinery, our team of skilled experts can help you design anything from prototypes to final products.
Ready to get your project made?
Available services
CAD/CAM
3D printing
Laser engraving/cutting
Vinyl printing/cutting
CNC machining
Laser scanning
Woodworking
Metalworking
Welding
Painting/finishing
Get started
Submit the membership form below to get started. Upon submission, an OriginLabs staff member will be in touch to finalize the process.
***There is no up-front cost with this membership. Total project cost is based on hours and materials invested.
Rather make your project yourself?
Check out our Makerspace Membership!
For a monthly fee, you can have 7,000 sq. ft. of world-class facilities at your fingertips.
3D PRINTING
Get it printed
The Additive Manufacturing Lab offers multiple 3D printing technologies - with various materials, at multiple scales.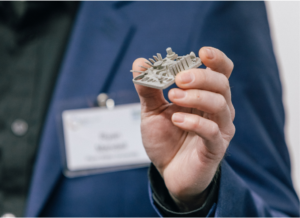 Getting your project printed is simple.
Sign up for a no-cost Service Bureau membership, upload your files, and our team will handle all the prep work and creation and let you know when your product is ready for pick-up.
PROTOTYPING AND FABRICATION
Get your product or prototype built
Let us bring your research or idea to life
Have questions? We're here to help.